INTELLICHLOR®
IntelliChlor® Salt Chlorine Generator uses common table salt to produce all the chlorine a pool needs, safely, effectively, and automatically. Same sanitation performance as manual chlorine addition without the drawbacks. No need for customers to buy, transport and store chlorine compounds.
FEATURES
Full diagnostic capabilities, including cell life tracking that communicates remaining hours of cell life in real-time. Captures all performance data daily (production settings, hours of operation, chlorine output, cell cleaning cycles, salt readings, and water temperature averages)
Push-button operation and easy-to-view displays enable fast checking of salt levels, cell cleanliness, sanitizer output, and water flow
Automatic shut-off feature protects the unit and prolongs cell life under low water temperature conditions
On-time cycling prevents calcium and scale build-up to maximize cell life
Ability to communicate with IntelliTouch®, EasyTouch®, and SunTouch®

 

Automation Systems
Certified to UL 1081 standard for safety
NSF approved
Health Canada approved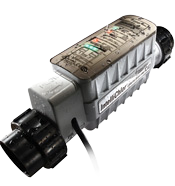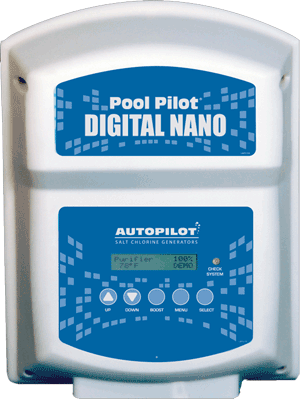 POOL PILOT® DIGITAL NANO PLUS
In production since 1976, AutoPilot Salt Chlorine Generator units have been proven over time. With over a half million satisfied customers worldwide, only AutoPilot offers you the combination of quality, dependability, customer satisfaction and warranty… insist on the BEST… the ORIGINAL, AUTOPILOT.
WARRANTY 2 Years
Product Description

Pool Pilot® Digital Nano Plus gives you Perfect crystal clear pool water everyday…. the Natural Way!
Benefits:
Maintains pools up to 28,000 gallons/106 m3
Produces 1.06 lbs. of chlorine per day – 20 g/H
Push Button Controls
Patented temperature compensation
24 & 72 hour boost cycles
Digital readout displays English, Spanish, French, Italian or Czech
Operates at all salt levels – 2,000-35,000 ppm (2 to 35 g/L)
Operates in water up to 104ºF/40ºC
Operates at flow rates less than 15 gpm/3.4 m3/h
Digital Display Readout:
Salt level
Amount of salt to add
Water temperature
Diagnostics
Nano Plus Features:
Never buy chlorine again
Soft, silky water
No more faded swimwear
Energy efficient
Environmentally friendly
Automatic cell cleaning
No more red eyes
No more itchy skin
No more green hair
No more vacation worries
AQUARITE

AquaRite provides complete pool and spa sanitization using ordinary salt. It converts a small amount of salt – approximately one teaspoon per gallon of pool water – into a virtually endless supply of fresh, pure chlorine. This environmentally friendly and self-renewing process produces up to 1.45 pounds of chlorine a day, enough to keep the water in a 40,000-gallon pool clean, clear and luxuriously soft.
Right-sized salt chlorination.
Salt Chlorination Turbo Cells are available in three sizes – 40,000, 25,000 and 15,000 gallons. The three sizes enable you to right-size your system for the most efficient and cost-effective chlorination possible.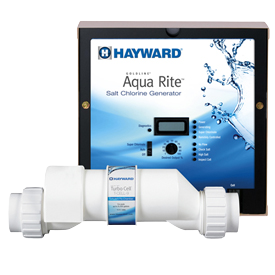 WITH ONE OF OUR EXPERIENCED ASSOCIATES ABOUT YOUR POOL REPAIR NEEDS!