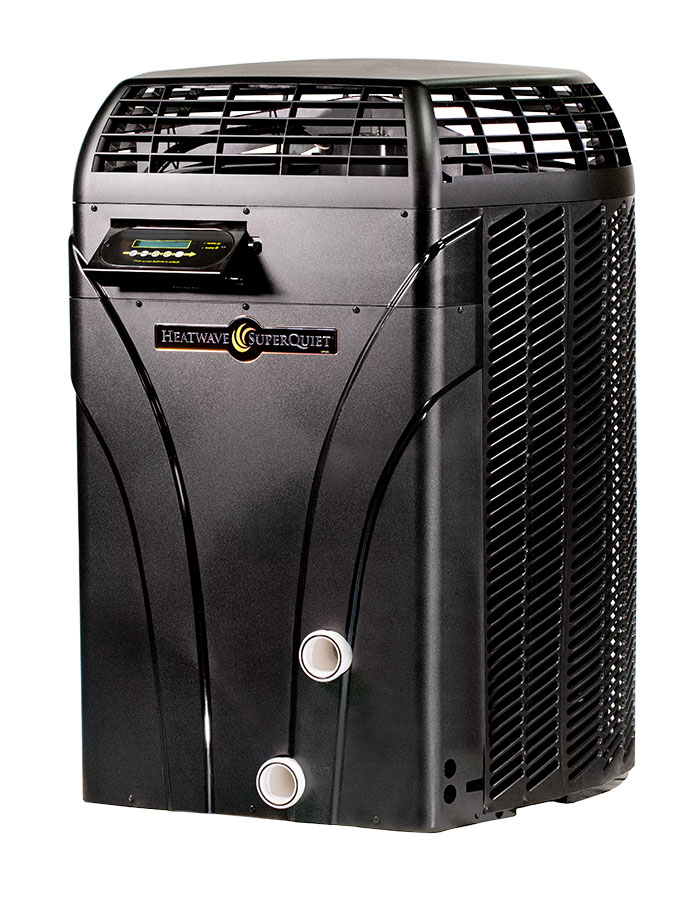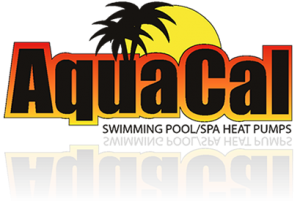 SWIM LONGER, SWIM WARMER!
Your swimming pool is an investment and you want to maximize that investment. Without heat, your pool usage becomes very limited. You and your family can exercise, relax, swim and entertain in warm water even when there's a chill in the air. Extend your swim season and enjoy more quality time with your family and the company of friends in the comfort and security of your own backyard.

The HeatWave SuperQuiet® is the TOP selling and most sought after heat pump on the market. With a pure Titanium ThermoLink® Heat Exchanger at its core – the HeatWave SuperQuiet® Series offers you optimum return on your money.
At 55 db, the AquaCal® HeatWave SuperQuiet® heat pumps are virtually silent from 10ft. away!
All of our HeatWave SuperQuiet® Heat Pumps are fully tested and certified by AHRI. Making the right choice just got a whole lot easier. Some of the HeatWave SuperQuiet® models are ICEBREAKERS®, which heat and cool the pool. The ICEBREAKER®units extend the swimming season longer than any other heat pump by continuing to operate in low temperatures.
Rated in accordance with ARI standard 1160.
Features
The only heat pump that allows you to maximize the potential savings of a variable speed pump is an AquaCal®, which utilizes our patented ThermoLink® Heat Exchanger technology with its unique flow characteristics.
• Patented hydraulic design adds only 2 PSI at 45 gpm, increasing compatibility with two-speed & variable speed pumps
• Saves money when using a variable speed pump by reducing the RPM needed to achieve the same flow rate
• Save money in a single speed pump application by reducing the run time needed to achieve the same turnover rate of the pool
Corrosion Proof Cabinet  
• Louvered side panels protect evaporator coil while ensuring efficient air flow
• Rust and fade proof
• Impact resistant
• Built-in drain pan provides condensate management
AquaTop
• Unique Air Flow Vectoring Top ensures optimal air flow for maximum efficiency
• World's ONLY integrated top that protects internal components and prevents debris like leaves and other vegetation from getting inside the heat pump, rotting and becoming acidic
• Protection provided by the AquaTop allows for an extended 10 year warranty on the evaporator coil
Microprocessor Controlled  with Digital Display
• Weather protected control with full text display provides easy-to-read menu options and unit status
• Ability to connect to most external controllers for heating and cooling mode
• Hybrid functionality can initiate a gas heater when an extra boost of heat is needed
GULFSTREAM HEAT PUMPS
Gulfstream™ revolutionizes heat pump technology . . . again! GulfStream was first in the industry to utilize titanium in our heat exchangers and changed the industry standards. They said it couldn't be done with titanium, but we took it a step further by rifling our titanium tubing, adding even greater efficiency in the heat exchange process. The GulfStream Hi-E Series of Swimming Pool Heat Pumps has done it again with our exclusive, specially designed state of the art TXV (Thermal Expansion Valve). It has been optimized for R-410A Refrigerant to precisely regulate the flow of refrigerant through our patent pending coil to achieve maximum efficiency especially at lower temperatures, allowing lower cost of operation. THE RESULTS ARE MORE HEAT FOR LESS MONEY . . . MAKING GULFSTREAM THE MOST EFFICIENT POOL HEAT PUMP IN THE WORLD.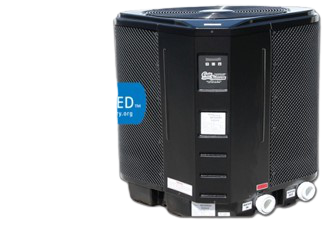 WITH ONE OF OUR EXPERIENCED ASSOCIATES ABOUT YOUR POOL REPAIR NEEDS!