POOL PUMPS & FILTERS ARE IMPORTANT
All swimming pools have a filtering system to keep the water clean and free of algae and bacteria.  Without a pump your filtering system will not work and without a filter, your pool will get too dirty – quickly. Pool pumps come in various horse power depending on the size of the pool and how many gallons of water it must pull through the filtering system each hour.  Pool filters require periodic cleaning maintenance to increase its efficiency.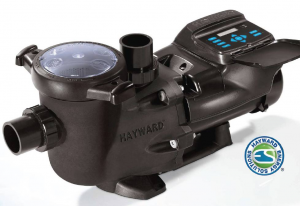 ECOSTAR PUMP
EcoStar variable speed pump is the most efficient pump at any speed that can save you up 90% on energy costs over a single-speed pump. EcoStar matches pump flow to a pool's needs, versus running at full power 100% of the time and is suitable for both new construction and the aftermarket.
Most efficient pump at any speed. Its super-efficient permanent magnet, totally enclosed fan cooled (TEFC) motor and industry leading hydraulic design can save you up to 90% on your energy costs
Service mode allows your service company to clean pools quicker
Integrated controller is programmable with a self-contained 24-hour clock and up to 8 custom speed and timer functions that allow EcoStar to manage flow throughout the day
May be eligible for rebate from your local power utility
User interface can be repositioned or even removed and mounted on the wall for easier access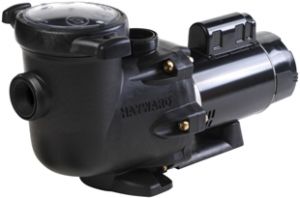 Tristar
TriStar Superior performance, energy efficiency and value are the qualities that you can depend with TriStar. Its advanced design delivers superior flow, energy efficiency and reduced maintenance creating a new benchmark in residential pool pumps.
TriStar features the most energy-efficient hydraulics with a revolutionary motor-cooling design for an extended motor life. Its extra large leaf holding capacity extends the time between cleanings, giving you more time to relax and enjoy your pool. It also features a dynamic airflow for a quieter, cooler operation and it seamlessly retrofits to almost any existing filtration system.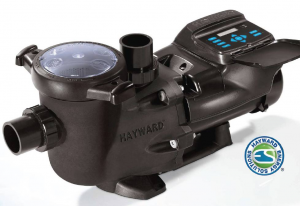 INTELLIFLO
WANT TO KNOW WHY INTELLIFLO VARIABLE SPEED PUMPS OUTSELL ALL OTHER VARIABLE SPEED POOL PUMPS COMBINED?
When Pentair® first introduced IntelliFlo variable speed technology, it set off a marketplace revolution with its energy efficiency, near-silent operation and long service life.
Now comes the latest member of the IntelliFlo family, the new IntelliFlo variable speed pump. It further refines the field-proven advancements that have led IntelliFlo pumps to outsell all other variable speed brands combined. Check out these advantages and you'll quickly see why:
FEATURES
ENERGY STAR®Certified: meets strict energy efficiency criteria set by the U.S. Environmental Protection Agency and the U.S. Department of Energy.
Energy savings up to 90% versus traditional pumps*
8 programmable speed settings and built-in timer to ensure the pump runs at optimum speed and duration
Ultra-efficient permanent magnet motor design reduces noise and vibration for greater efficiency and longer pump life
Dramatically quieter operation – as low as 45 decibels – about 4 times quieter than most traditional-style pumps.**
Totally enclosed fan-cooled (TEFC) design and low average operating speed makes IntelliFlo the quietest pump on earth
Fully compatible with IntelliTouch®, EasyTouch®, SunTouch®Pool Control Systems and other brands of digital pool/spa controls for managing pump, heating, lighting, spa jets and water features.
Built in diagnostics protect the pump for longer service life
AFFORDABLE VARIABLE SPEED TECHNOLOGY COMES TO STANDARD POOLS FOR ENERGY COST SAVINGS OF UP TO 80%*
NEW SuperMax VS pumps slash energy costs by up to 80%*, compared to conventional pool pumps. They come to you from the company that launched variable speed technology years ahead of every other pool pump manufacturer. With premium features like a 24-hour real time clock and an intuitive interface that displays watts and RPMs, they're easy to program and operate. With the SuperMax VS pump, you don't need to spend a fortune to enjoy big savings on your utility bill – it's affordable for new and standard pump replacement applications. No other company can match our proven, in-field performance and reliability, so you can count on years of long, dependable service. No wonder we outsell all other variable speed pumps.
FEATURES
Only variable speed pump on the market today with 115/208-230V and 50/60 Hz single phase capability. Operating nominal voltage range is 110V thru 230V.
Ideal for standard pools requiring up to 1.5 hp pump.
Easy-to-read display and real-time, 24-hour clock – no need to install a separate external unit.
Three operating speed settings plus override capability.
Direct … and superior drop-in replacement for the Hayward® SuperPump®.
An Eco Select®

 

Brand Product: One of Pentair's "greenest" and most efficient choices.
We also carry other  brands of pumps. Please inquire.
*Savings based on variable speed pump compared to a single-speed pump running 12 hours per day at an average of $0.16 per kWh in a 20,000 gallon pool. Actual savings may vary based on local utility. rates, pool size, pump run time, pump horsepower, pump rpm, plumbing size and length, pump model, service factor and other hydraulic factors. Hayward® and Super Pump® are registered trademarks of Hayward Industries, Inc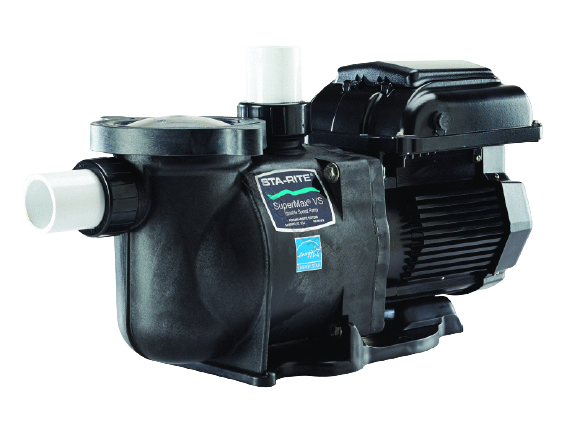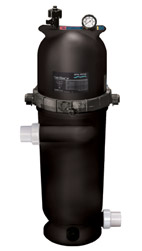 INTRODUCING THE MOST EFFICIENT SINGLE CARTRIDGE FILTER SYSTEM EVER

The Posi-Clear™ RP Cartridge Filter gives you everything you could ask for in a filter. It delivers top-of-the-line cartridge performance to keep pools sparkling clear, trapping particles as small as 20 microns (an average grain of sand is 1,000 microns). The new side entry design optimizes flow for nearly 50 percent greater efficiency than any other single cartridge filter on the market, earning it the Pentair® Eco Select® Brand for our most environmentally responsible equipment choices. Cleaning is a breeze – just open the top, remove the cartridge, and hose it off. And, its durable fiberglass tank ensures exceptionally long life. The Posi-Clear RP is the ultimate in convenience, and delivers refreshingly clear pool water.
FEATURES
NSF Listed
Nearly 50% more efficient than other single cartridge filters
Innovative lock-ring provides for a leak-proof seal as well as safe and easy cartridge access
Easy cartridge removal and maintenance
1-1/2″ drain for quick maintenance and winterization
2″ x 2-1/2″ plumbing for maximum flow
Single-piece, fiberglass-reinforced polypropylene tank for strength and corrosion resistance
High-flow manual air relief valve
Available in 100, 150, 200 sq-ft sizes

FIBERGLASS REINFORCED POLPROPYLENE TANK
The EasyClean™ features a chemical resistant tank with no-tool servicing and a coreless cartridge for easier cleaning. All models are equipped with easy spin-on-unions for plumbing hook-ups.
FEATURES
NSF listed
Unionized connections
Integrated continuous High Flow internal air relief *
Lock ring with spring-loaded safety latches
Coreless cartridge for easy cleaning
High Flow manual air relief valve
1 in. drain and wash out
Single piece base and body design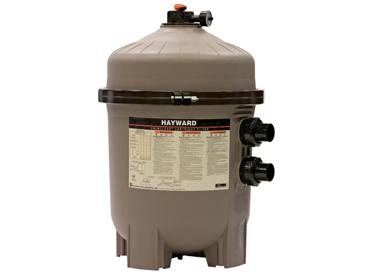 CARTRIDGE FILTER

Cartridge filters have a greater surface area than sand allowing for fewer clogs and easier maintenance. They run at lower pressure than sand which puts less backpressure on the pump, providing more flow and turnover. Cartridge filters should be cleaned once or twice a season by simply hosing the cartridge element off. Cartridge element filters trap debris as small as 10 to 15 microns.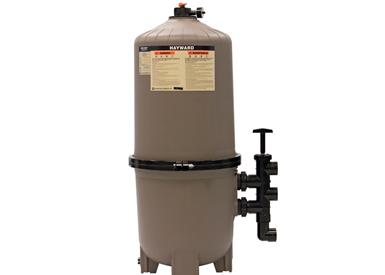 D.E FILTER
Diatomaceous earth (D.E.) is mined and is the fossilized exoskeletons of tiny diatoms. They are used to coat "grids" in the filter housing and act as tiny sieves allowing for the removal of debris as small as 5 microns. Once the pressure rises, the filter is backwashed just like a sand filter and then "recharged" with more D.E. powder. D.E. filters trap debris as small as 2 – 5 microns.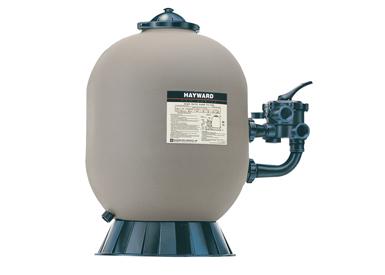 Sand FILTER
In this method, impurities are extracted from the water using sand to collect and attract the debris as small as 20 to 40 microns. Sand filters must be backwashed (running it in reverse) to unload the water waste.

WITH ONE OF OUR EXPERIENCED ASSOCIATES ABOUT YOUR POOL REPAIR NEEDS!