Pentair Rebel
The new Rebel cleaner is perfect for thorough cleaning coverage of pools with hard-to-clean dirt and debris. Its programmed cleaning cycle and compact, two-wheeled design help maneuver the Rebel over pool bottoms, up 90 degree floor-to-wall angles and into tight corners. So it sucks up debris other cleaners miss.
FEATURES
Sure-Flow Turbine – Dirt & debris pass through easily to avoid clogging.
Advanced Hydraulic Technology – Ideal for use with variable speed or two-speed pumps.
Dual-Action Roller Skirt – Maneuvers up and over obstacles for uninterrupted cleaning.
Programmed Cleaning Cycle – Assures complete and thorough pool cleaning coverage.
Compact Footprint – Effortlessly cleans tight corners and 90 degree angles.
Quick-Release Latch – Top access for easy serviceability.
Dedicated Vacuum Line Port—Provides added safety for dedicated vacuum line installations.
2-Year Limited Warranty and a consumer rebate available when purchased from Twin Lakes pool service company at or above $399 (excluding taxes).
---
Zodiac MX8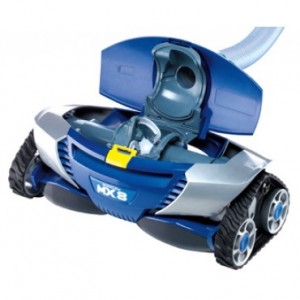 Ultra-Efficient Suction Pool Cleaning Robot
The Zodiac MX8 is ready to battle your pool's toughest dirt and debris. The Cyclonic Suction enables the MX8 to move faster and deliver unsurpassed vacuum power, while requiring 30% less flow than any other cleaner in its class. The MX8 is the best choice for variable-speed and 2-speed pumps, requiring just 22 GPM to operate.
It has a wider cleaning path than competitor models, with a large vacuum inlet to capture larger debris. X-drive technology promotes maximum torque and extreme maneuverability, allowing the MX8 to aggressively clean your pool walls and floors. Its twist locking hose enables quick, secure attachment to the cleaner head and the cleaner includes 36 ft. hose.
The Zodiac MX8's innovative design features top access to motor and ergonomic molded handle for easy transport. It is the best choice for solar, 2-speed, and variable-speed pumps. The MX8 requires 2250 RPM low flow pump.
Features
Requires less flow than any cleaner in its class for maximum energy efficiency, requires just 22 GPM
Includes 36 ft. of quick connect hose enabling quick, secure attachment to cleaner head
Cyclonic Suction provides unsurpassed vacuum power, wider cleaning path, and largest debris intake
For use on all pool surfaces, provides best-in-class cleaning coverage that cleans the entire pool quickly and efficiently
X-trax provides extreme climbing capabilities and maneuverability, cleaning hard to reach areas
---
Zodiac MX6
Advanced Suction Mechanical Cleaner

The new MX6 is an ultra-efficient pool cleaning robot that features best-in-class vacuum power and programmed navigation for a comprehensively clean pool without the hassle. MX6 boasts an innovative low-flow design so it consumes less energy than any cleaner in its class, making it the ideal cleaner for pools with 2-speed or variable-speed pumps.
Features
CYCLONIC SUCTION – Provides powerful suction and aggressive wall climbing.
X-DRIVE NAVIGATION – Intelligent bi-directional navigation to thoroughly clean floor, walls, and waterline.
OPTIMIZED FLOW CONTROL – Automatically controls excess flow through cleaner for optimal performance and longevity.
LOW-FLOW ENERGY EFFICIENT DESIGN – Ultra efficient operation. Best choice for variable-speed and 2-speed pumps and solar.
FLEX POWER TURBINE – Articulating turbine blades provide ultra-efficient operation, even on low-flow pumps.
EASY-GRIP HANDLE – For easy removal and transport.
QUICK CONNECT – Enables quick secure attachment to cleaner head.
TWIST LOCKING HOSE – Provides simple connection and reduces vacuum loss.
---

Navigator V-Flex
EXPERT LINE
Navigator® V-Flex™ automatic suction pool cleaner delivers more power, reliability and performance than ever. Equipped with patented V-Flex variable vane turbine technology, Navigator V-Flex can pick up larger dirt and debris more effectively than any other cleaner on the market for peace of mind of clog-free cleaning. It maximizes suction power even at lower flow-making it the perfect partner for use with variable speed pumps. Its unmatched patented SmartDrive® programmed steering determines the most efficient cleaning path around any pool and assists with cleaner maneuverability for the most reliable, complete pool coverage.
Patented V-Flex variable vane turbine technology
Features self-adjusting variable vanes for easy handling of larger debris for virtually clog-free cleaning
Energy-efficient design maximizes suction power at lower flow
Ideal for use with variable-speed pumps
Unmatched programmed cleaning
Exclusive patented SmartDrive pre-programmed steering pattern offers unparalleled, reliable pool coverage, covering floor, walls* and coves.
Guides the hose as programmed steering maneuvers the cleaner around the pool, eliminating hose tangles
Efficient suction path
Wide vacuum inlet, unique wing and skirt designed for constant suction power and faster debris pickup
Easy to use and install
Connects in less than 10 minutes to skimmer or suction port, no tools required
Powered by existing filtration system, does not require booster pump
*Wall climbing capability and pool coverage may be affected by specific pool shapes and surfaces. The cleaner may not climb the wall under certain conditions.
EXPERT LINE products are only available through your local pool professional.
---
Pool Vac XL
Pool Vac XL's exclusive AquaPilot® programmed steering pattern navigates the cleaner soundlessly through a preset turning sequence to ensure a thorough cleaning. It is powered by the existing filtration system, sparing you the expense of using an energy-wasting booster pump.
Features
Exclusive AquaPilot pre-programmed steering pattern ensures full pool coverage
No extra equipment required
Powered by your current filtration system
Turbine technology – cleans quietly
Easy to use – attaches to the skimmer or suction port in under ten minutes
---
Pentair Dorado™
Suction-side Pool Cleaner
FOR A CLEANER POOL YOU CAN SEE AND FEEL
The Dorado suction-side cleaner delivers simple, powerful cleaning you can see and feel. Its unique, Bristle-Drive™ Technology combines with oversized vacuum inlet to scrub and devour tough dirt and debris from your pool's floor and walls, providing complete, trouble-free cleaning. The cleaner's 15-inch-wide bristle scrubbers cover more of your pool in a single pass for fast cleaning. And Dorado's SmartTrac™ Programmed Steering easily navigates around pool obstacles for uninterrupted vacuuming of large and small debris.
Features
Bristle scrubbers dislodge tough dirt from pool surfaces
Oversized vacuum inlet devours small and large debris with ease
Cleans faster with 15-inch-wide cleaning path
Uninterrupted cleaning with SmartTrac™Programmed Steering
---
We carry other brands and models of pool cleaners. Please inquire.
CALL US TODAY AND SPEAK WITH ONE OF OUR EXPERIENCED ASSOCIATES ABOUT AN AUTOMATIC POOL CLEANER! (954) 434-5700